Online Training Super Package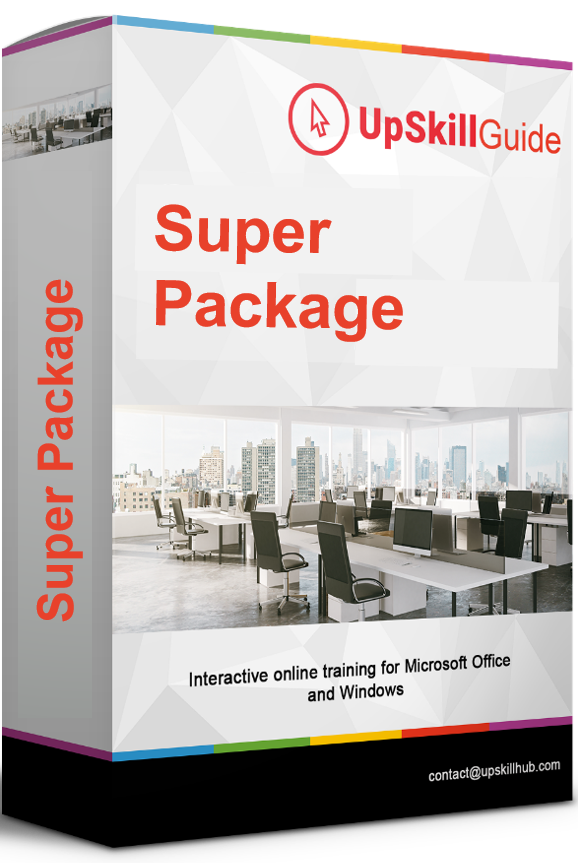 UpSkillGuide's Super Package Online Training is the ultimate way to upgrade your team's skills with the latest and greatest programs you need in an office, not only Microsoft Office covering most key programs but many key Google programs and other modules as well. Designed to enhance efficiency in your organization, UpSkillGuide's Super Package training helps upgrade your team's productivity when you upgrade their software.
Modules Included:
Microsoft Word (basic, intermediate & advanced)
Microsoft Excel (basic, intermediate & advanced)
Microsoft Outlook (basic & intermediate)
Microsoft PowerPoint (basic & intermediate)
Microsoft Access (basic & intermediate)
Microsoft Project
OneNote
OneDrive for Business
Google Docs
Google Sheets
Google Presentations
Google Slides
Google Classroom (for teachers and students)
Google Meet
Skype for Business
Business Writing
Email Etiquette
SMART Goals
Effective Presentations
Managing Meetings
Office Online
Windows 10
Salesforce
SharePoint
Zoom
According to our research, your team members average three hours a day using Microsoft Office products. If each of them improves his or her efficiency by 5% after completing UpSkillGuide's Super Package online training, you would recover ten minutes a day of his or her productivity. Saving ten minutes a day equates to saving 50 minutes weekly, 200 minutes monthly, or 2,400 minutes annually. That's the equivalent of a full work week gained in productivity each year, per individual.
Program Highlights:
Our training is self-directed. #NEW & IMPROVED! You now have access to the programs for nine months from the date you enroll, so participants can schedule training around their other work responsibilities.
Your native language is Spanish? We have the answer! Most of the Microsoft training modules are also available in Spanish!
Getting started easy!
For additional information, please click here to contact us, or send an email to contact@upskillhub.com.
Prices shown are in USD