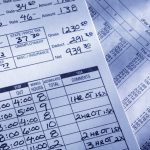 An Advanced Excel Timesheet Template for my LinkedIn 1st connections.
I'll be up front, right at the front – I am growing my LinkedIn network to increase awareness about our online courses for Microsoft Office and Windows. I recently passed the 500 connections mark, and in view of rewarding the many people who have connected up with me, here is an Excel template you may find useful in your business – it's an Excel Timesheet Template that you can use for your staff to help you track the time they spend on up to 23 different categories or projects.
This template has one sheet per day of the month, a set up page plus a report page which has an analysis and totals for each category or project.

The features of this Excel Timesheet Template are:
– Track up to 23 categories or projects
– The timesheet will automatically open up on the days' timesheet, unless you're in a different month to what it's set up for, and in that case it opens in the report page
– Track overtime or "undertime" (if that term exists)
– Track invested and spent time (See an explanation here)
– Automatically rename sheet names with the dates (when starting a new month)
– Automatically clear all the timesheet entries (when starting a new month)
– Set working hours and days
– Automatically insert the date and time for a timesheet entry by double clicking the time cell (for entering activities as you go)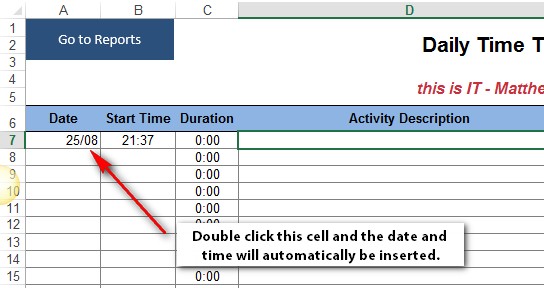 The way you get this is:
Click this link to download the Excel Timesheet Template
Contact me through LinkedIn (you must be a 1st Tier Connection) and request a validation code – including the name of the business you want to use this sheet for
On the set up page, click on the button to change the business name (you need to make sure Macros are enabled)
Paste in the validation code and validate.  Your company name will be automatically inserted.
The only thing this validation code does is look up the validation code online, and insert the business name you provided into the template, which is then displayed at the top of each timesheet.
We do this so the template can easily be shared by you, but at the same time anyone you share it with will need to get in touch with us, which will help us build our network.
I am especially looking to connect up with HR professionals, or anyone who is interested in training for their staff – I do not spam, and I think bulk mass emails are old and out – you'll get personal attention and emails from me.
Here is my LinkedIn Profile: https://www.linkedin.com/pub/matthew-steele/7a/788/25
Enjoy, and if you would like to modify this sheet to suit your needs, subscribe to our subscription service and we can help you through our helpdesk.
I'll let you get on with your tracking!