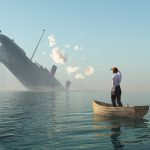 Giving employees the right tools to do their job is often quoted as a key component of keeping them happy and retaining them in the business, but from an employee's perspective, when faced with a situation in your job where you don't have the right tools, what do you do?  Obviously for tradesmen, this is probably key and vital, but as an office worker, you really only have two options – either stall, or get into the survivalist mode.
You could call it improvise, but it has certain negative annotations attached – I mean getting the job done with whatever you have at hand.
im·pro·vise – To make do with whatever materials are at hand: There isn't much in the cabin. We'll just have to improvise.
Whilst managers obviously have an obligation to make sure the people they lead have the tools they need, when faced with a problem like this, you really do need to think about the consequences you may face by simply "stalling".  Will you be framed as a complainer? What will happen to your own personal goals?  Might it be better to tuck down and get on the best you can, with what you have at hand.
One area where this could affect you is in the area of systems and procedures.  Maybe the CRM system you use doesn't have some vital feature you need, or maybe you don't have a CRM system at all.  Maybe it's your purchasing tracking system, or budgeting system.  The reasons you don't have them could be many as well – budget restraints, lack of time, or poor management.
The question is, are you going to use this as an excuse for your own poor performance, or will you find ways around this problem and still shine as a star employee.
I am obviously biased, but I think Microsoft Office is any excellent Swiss Army tool you can use to fill the gaps in your job – it might not be the right tool for the job, but it's a tool you already have in front of you, and it could well be enough to patch the problem and keep things going smoothly.
Not that I would recommend it, but I personally think an entire business could be run using Microsoft Office. Obviously the size of the business is a consideration, but when you look at the basic needs of a business as far as record keeping, systems and communications go, Microsoft Office has it all.
In my experience helping businesses with Microsoft Office, I have seen all sorts of systems including:
1) Fully functional double entry account systems that produces a full set of financial statements in Excel
2) Very elaborate quoting systems
3) Loads of invoicing templates and debtor statements
4) Enough CRM systems to sink a boat
5) Timesheets
6) Financial reports
7) Budgets, marketing plans, sales plans, [insert text here] plans
8) Project tracking – Gantt Charts
9) All sorts of analysing systems (important for insights into your business, customers, products, etc)
10) Stock tracking systems
When you add VBA to the equation, you can pretty much do anything with Excel.  I even once created a system to automatically transfer the information from a LinkedIn profile into our CRM system (hope I didn't break any rules) – I have no idea how much time that saved me – I was entering the data in manually up until then.
So the next issue is how well do you master Microsoft Office?  If your answer is not very well, you are not alone – did you know that 66% of users fail an intermediate Excel test?  And in another test, only 5% passed the Advanced test, which included testing on VBA – the whiz kid stuff. (You can read about these Excel tests results here)
If you are not sure what your skill level is, we have free Excel and Outlook tests available for you to do online now.
thisisIT also offers a totally free service to companies who would like to test mulitple staff members which includes a special consolidated report, showing all their results at a glance, as well as a special login so you can view the results in real time as the staff members complete the tests.  To do this, we need some information from you, so please contact us by email: contact@e-thisisit.com to get your assessments set up.
I also found, when I did the assessment, that the explanation at the end was the best part – I really enjoyed finding out what I don't know!
Microsoft Office Assessments – Test your Microsoft Office Skills